Pro-Core Drink Mix Powder

Designed to help you feel energized, active and ready to take on the day!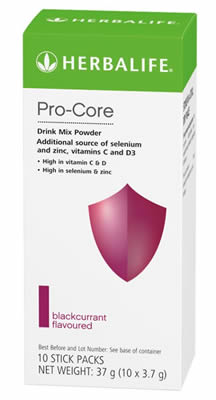 Boost your day with the new Herbalife Pro-Core Drink Mix Powder formulated with unique complex of ingredients such as: Epicor, yeast based fermented, Vitamins C and D as well as Minerals Zinc and Selenium. Comes in an elderberry juice flavour and each serving is 3.7g stick mixable powder which you can prepare with 150ml of hot or cold water and stir. You can also add it to your favourite drink once per day.
Key Product Benefits
The health benefits associated with the vitamins and minerals in this product have been well-established and targets all people seeking to support a healthy immune system, in conjunction with a healthy active lifestyle.
Key Ingredients
EpiCor, Vitamin C, Vitamin D, Zinc, Selenium, Elderberry.
Product Usage
Take one 3.7 g stick pack once a day with 150 ml of warm or cold water. This product can can be taken as a stand-alone drink or added to your favourite beverage.