Herbalife Thermo Complete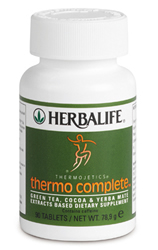 Herbalife Thermo Complete provides caffeine to give you a mental lift by helping to improve concentration and increase alertness.
Key Benefits
Provides naturally sourced caffeine from green tea, cocoa extracts and yerba mate.
Vitamin C contributes to the reduction of tiredness and fatigue.
Caffeine helps improve concentration and alertness.
Usage
Take one to two tablets twice daily, mid-morning and mid-afternoon.