Instant Herbal Beverage

A low-calorie, powdered green tea mix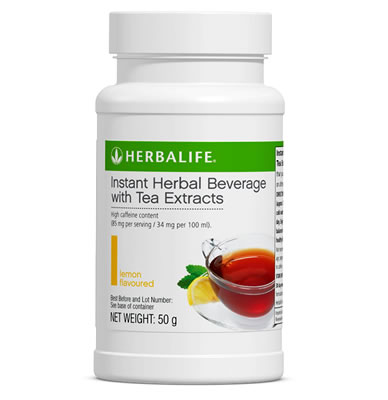 The antioxidant properties of green tea have been well known for some time. Now, new evidence shows the active ingredient - catechin - may also have a beneficial effect on metabolism. Researchers conducted a series of studies and found that green tea drinkers lost more weight than those who didn't, suggesting that catechins may improve fat oxidation and thermogenesis, your body's production of energy, or heat, from digestion.
Key Benefits
Low calorie – approx 6 kcal per serving.
One cup of Instant Herbal Beverage contains 85mg of caffeine to help increase alertness and improve concentration.
Our green tea is water extracted to give you the full spectrum of compounds found in green tea.
Available in Original, Lemon, Raspberry and Peach flavours.
Can be enjoyed hot or cold to suit your mood.
This unique blend of orange pekoe – a traditional black tea, and green tea, with extracts of malva flower, hibiscus flower and cardomom seed, is designed to revive and refresh.
Usage
Mix ½ teaspoon (approx 1.7g") with 250ml of hot or cold water.
Product Information
For centuries, people have enjoyed the goodness of a cup of hot or cold flavorful tea. One of the world's most popular beverages, tea can soothe, refresh, stimulate, calm, enlighten, promote happiness and health.
But tea is much more than a refreshing beverage and between-meal snack. In fact, green tea, a key element in Herbal Tea Concentrate, can help protect the body from free radicals, help to reduce the risk of heart disease, cancer and ulcers in
addition to helping you to lose unwanted pounds.
Research has found that green tea, one of the oldest beverages known to mankind, may speed up calorie and fat burning in addition to playing a key role in the control of body composition. Researchers at the University of Geneva in Switzerland studied 10 healthy young men for six weeks and in the end found that the men taking the green-tea extract burned more calories than the other men. Researchers believe that compounds in green tea called flavonoids may change how the body uses a hormone called norepinephrine, which speeds up the rate calories are burned.
Tea can also help you with your body goals. And there's one tea that does just that in an extremely effective manner. Combining ancient herbal wisdom with modern-day ingenuity, Herbalife has carefully formulated Herbal Tea Concentrate. Available in four flavours – Original, Lemon, Peach and Raspberry – this delicious-tasting tea is an ideal between-meal treat that energises and satisfies. It will calm your cravings so you don't turn to calorie-rich snacks that can throw your plans off track. Herbal Tea Concentrate isn't just for dieters. It's for anyone who wants to indulge their tastebuds in a refreshing beverage that's good for just about every body.
Green tea is one of the most ancient and, next to water, the most widely consumed beverages in the world. This humble drink has been highly valued for centuries because of its health-enhancing benefits. It is rich in antioxidant properties, which can help protect the body from the harmful effects of free radicals. Herbal Tea Concentrate contains superior-quality green tea, so you can be sure you are getting the best in every sip.