NRG (Nature's Raw Guarana) Tea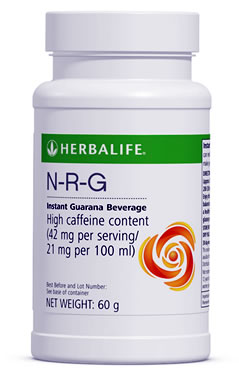 Enjoy a natural energy boost from Herbalife's Instant NRG Beverage. Feel the benefit of 100% pure organically grown Guarana. It is easily absorbed by the body and gets to work quickly, providing a slow, sustained release for several hours. Other maker's of Guarana products frequently add caffeine. With no added caffeine, this product is gentler on your body. NRG Beverage only contains naturally-occurring caffeine.
Key Benefits
Guarana, a native South American shrub, has been used for centuries by the Amazon Indians for its caffeine content which supports alertness and helps reduce mental fatigue
Guarana helps the body to maintain normal invigoration and concentration
Product Usage
Take between 2 and 4 tablets per day.