LiftOff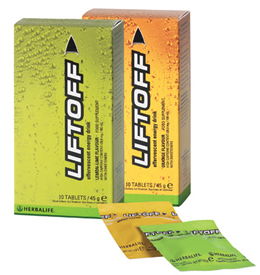 Liftoff is an exclusive blend of L-taurine, guarana, caffeine, Panax ginseng and Ginkgo biloba. Convenient, pocket-size tablet provides a mind-body boost anytime, anywhere.
Key Benefits
40 kJ per serving
High in vitamin C per serving
High in B1, B2, B6 and B12 per serving
Caffeine from guarana and caffeine powder
Every serving provides 75mg of caffeine
Product Usage
Take one to two tablets each day by dissolving them with water.